Triaxe Sport Travel Battery
The Triaxe Sport Travel Battery is specifically designed to be approved and safe for Airline Travel.  Don't give up performance in your travel scooter  This specially designed Travel Battery Pack is made from Lithium Ion and provides 48 Volt 6 amp Power and still gives you a fastest in the industry 12 miles per hour.
Weighs just 8 lbs – 18 Miles on a Single Charge –  Approved for Airline Travel.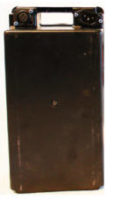 Product Specifications
Gallery
Warranty
Why Buy From Us?
Shipping Information